Jonathan (Watrous) Waterhouse


Jonathan5 Waterhouse, descended from Jacob Waterhouse, was born June 2, 1758 in the part of New London, Connecticut that is now Waterford. He served in several units in the Revolutionary War, at times under his father, Lieutenant Nathaniel Waterhouse. He was first in the infantry in 1776 where he fought at the Battle of White Plains. He then served at Fort Trumbull, and finally manned a cannon as a Marine aboard the Connecticut Navy ship Oliver Cromwell. Aboard the Oliver Cromwell he was involved in action resulting in the capture of the British ship Admiral Keppel. His service and the engagement with the Admiral Keppel are confirmed in this account in "Maritime Connecticut During The Revolution". He was wounded slightly in the engagement and ultimately received a pension for his service in the war.

Jonathan married Abia Webster (a descendant of Gov. John Webster of Connecticut, and a Mayflower descendant) in 1783. According to Jonathan's pension declaration they settled in Colchester until the early 1800s, when they moved to Hebron. Jonathan died September 23, 1841 in Somers, CT, and he and his wife are now buried in St. Peter's Cemetery in Hebron, CT. Their gravestones appear below: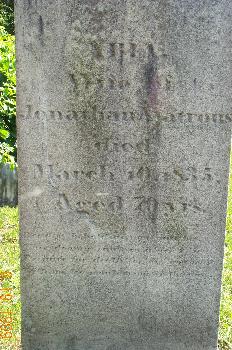 ........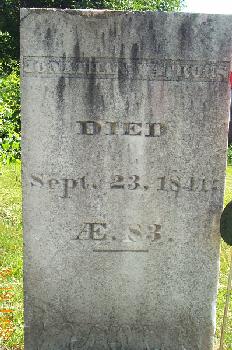 Research Notes: I have undated family notes that go back at least to my great grandmother Rose Wetherell Keeney, daughter of Frances Celia Watrous Wetherell (daughter of Elijah Watrous, grandaughter of Jonathan) in which the Watrous family from Jonathan and Abia is laid out. Beyond that, the only written proof of the marriage of Jonathan and Abia, as well as the births of all of their children, to my knowledge, is recorded in History and Genealogy of the Gov. John Webster Family of Connecticut, which does not provide any sources. It was, however, published in the early 1880s when several of Jonathan's children were still alive.
To date I am aware of no primary evidence of the marriage of Jonathan and Abia or the birth of Elijah. The Daughters of the American Revolution have a file on Jonathan but does not provide any help on the marriage question (this was determined after several back-and-forth correspondences.) The DAR file contains transcribed excerpts from the family bible of Jonathan Bissell Watrous, Jr. but they do not address the parentage. (It turns out that this excerpt was transcribed from Jonathan Jr.'s War of 1812 widows' pension application.)
I visited the Hebron and Colchester, CT town clerks in June 2001 but they have no record of their marriage, or births of any of the children. My search of land records in Hebron and Colchester only turned up his purchase in April, 1835, of the cemetery plots at St. Peter's. He does not appear as a member of St. Peter's though he was buried there, and one of its ministers, Alpheas Geer, was a witness to his Revolutionary War pension application (his son Hubbard Judson was a member of St. Peter's in 1835).
There is proof that the Abia buried next to him is the Mayflower descendant Abia Webster. The 1817 will of her sister Anne Webster names "my sister Abia Watrous" as well as the "heirs of Jonathan Watrous."
Finally, there is a probate bond signed by Elijah Watrous on behalf of Jonathan Waterhouse in January 1842. Though it does not state the relation it is at least circumstantial proof of the relationship. Probate would have been in Bolton but there is no probate file there indicating that there were no material assets to convey.
Here are a few interesting Watrous documents:
| | | |
| --- | --- | --- |
| | Jonathan's birth from the Barbour Collection. | |
| | Jonathan's Revolutionary War Pension Application Declaration | |
| | St. Peter's Church, Hebron, CT burial records | |
| | The Barbour Collection of Connecticut Vital Records, Hebron, CT, lists some of Jonathan and Abia's children's marriages. | |
| | Probate bond posted for Jonathan by his son Elijah A. Elijah is his executor but the bond does not reference the relationship. Note the uses of both Watrous and Waterhouse for Elijah. | |